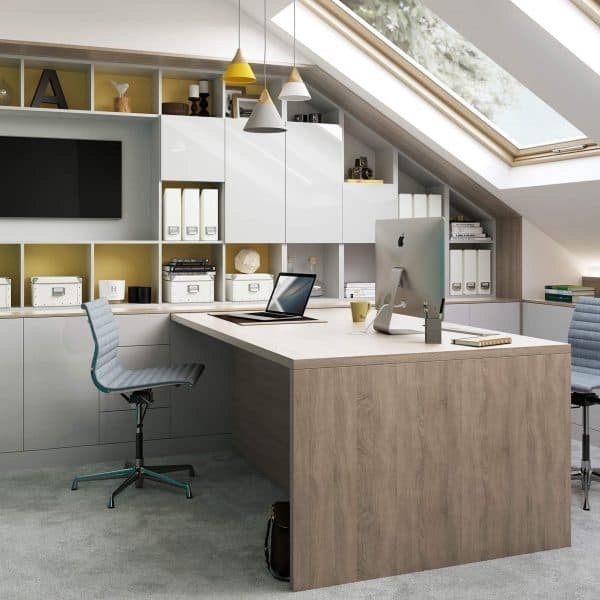 Over the last 6 months times have been quite different for many of us in the UK. Working from home has been the new norm for many and for some, this new working routine maybe here to stay. It could be that your employers have decided that they are happy for you to remain working from home or perhaps you have decided to take the plunge in to self-employment. Whatever your reasons for home working, it is vital that you have the perfect home office to work from if you want to be productive and sustain a great home/work life balance.
We at Avanti can turn any room in to the perfect home office. Our extensive expertise and experience ensures we know exactly how design your home office to increase productivity whilst ensuring that your physical and mental wellbeing is also looked after.
A lot of thought and planning needs to go into the design of your home office to ensure that you have the right amount of storage whilst also having a clean and tidy area from which to work. A tidy desk is a tidy mind and this can only happen if you have adequate space to store documents or items that you are not currently using.
Posture is extremely important when it comes to working from home. It is all too easy to sit on your sofa typing up notes only to find a few hours down the line you are suffering with backache. All of our fully fitted home office furniture is designed to ensure that you can easily maintain the correct posture, allowing you to work for longer periods of time.
You may want your home office to also be a place that you can welcome clients. It is important that this is factored into your bespoke design. Having a professional home office can not only give you more confidence when talking to prospective clients but can also give your business a professional look and feel.
We have a wide range of bespoke home office furniture that will blend seamlessly into any home whether you are looking for a contemporary sleek office or a more traditional one. We also offer a no obligation free home design visit to all customers in the West Midlands and surrounding areas.