Avanti has been helping customers find the reason for their rooms since 1980. Just as every room in your home has a reason, there is a reason that Avanti is one of the Midlands' foremost fitted home furniture designers: we provide the finest quality kitchens, bedrooms, bathrooms and home designs. The Avanti name has become synonymous with expert craftsmanship and dedicated customer care and the proof is in our products. Visit one of our nine showrooms to see examples of cutting edge design and smart functionality that can transform the look and feel of your home. Our team can even discuss and arrange a free design visit for you.
Even our returning customers recommend us, building an established reputation. These are reasons to choose Avanti for your fitted kitchen, bedroom, bathroom or home design are endless.
When Avanti first opened for business in the heart of the Midlands back in 1980, our goal was clear: quite simply, to provide the very best quality kitchens, bedrooms and bathrooms, all backed up by an outstanding customer service.
Today, the Avanti name is renowned throughout the industry for its superb levels of craftsmanship and customer care. Meeting and indeed surpassing our customers' expectations is the firm base upon which our reputation has been built. Testament to which is the fact that, last year, nearly two thirds of our business came courtesy of returning Avanti customers, or from recommendations made by our existing customers.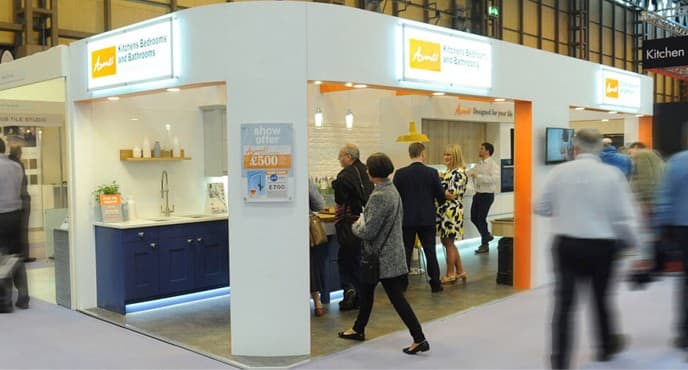 The good news is that Avanti is more committed than ever to meeting customers' requirements. From the moment you walk through the door at one of our nine showrooms, our sheer professionalism and customer-orientated approach shine through. It's why our customers come back to us time and time again.
We want you to feel completely comfortable with us. So our no obligation design and quotation process is FREE of charge.
We provide peace of mind in other ways too. Because we manufacture many of our own products, we can guarantee their quality. You'll also be pleased to hear we take our environmental responsibilities very seriously. At our state of the art factory, our landfill requirements are almost zero.
Looking after the environment
LOOKING AFTER THE ENVIRONMENT
Avanti kitchens recognised over the years for its orange branding, is going green.
An investment of £250K on a waste management system has given Avanti a near zero impact on land fill sites, and is an approved appliance under the clean air act.
This impressive system is automatically fed sawdust direct from cutting machines. Other materials are shredded and conveyed to a furnace that produces hot air for heating the factory.
We are also working very closely with our key suppliers to secure a greener supply chain; wherever possible, the timber, raw materials and related products we use, are from well-managed, sustainable forests and recycled sources. Packaging is returned to suppliers to be re-used for future deliveries.
The benefits of energy efficient appliances and lighting are clear.
Our research has identified specific products that we have made available to our customers. All of these products can be seen on display at our recently updated showrooms.