If you are currently working from home or considering working from home, it is vital that you have the perfect place in which to work. Balancing a laptop on the arm of a sofa or having to make room on the dining room table everyday is not idea. A home office can not only make you more productive but can also ensure you have that all important work-life balance.
If you have a spare room or maybe an area under the stairs that is not being used, then why not convert it into a home office? At Avanti we have a wide selection of home office ranges from the ultra-modern through to the more traditional – there really is something to suit all tastes.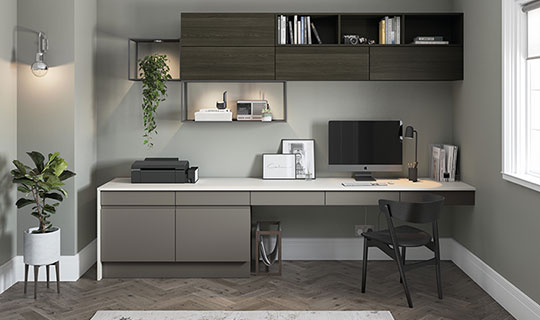 It is essential that your home office is designed correctly to ensure that you maintain a good posture when working and that you have everything you need at your fingertips. Desk height, storage space and lighting all needs to be carefully considered when it comes to designing your office. Our bespoke office furniture is made to measure meaning that it will fit the exact dimensions of the room. Opting for fitted furniture ensures that no space is wasted and that everything flows seamlessly.
Put your personality in to your home office design
Your home office does not have to be dull and boring; it can instead reflect your personality. You may decide that you want it to be bright and bold or perhaps a clean white gloss finish is more to your taste? No matter what vision you have for your office, we are confident we will have several ranges that will catch your eye. Our professional design team has over 40 years' experience is designing fully fitted furniture and strive to ensure that every project is handled with the upmost care and attention.
Our showrooms are now open and we look forward to welcoming you. We are also still offering our free no obligation home design visit with comprehensive Covid-19 health and safety guidelines in place for your peace of mind. If you prefer, we can arrange for a virtual appointment which can take place at a time and date to suit you.