When it comes to kitchens, organisation and imagination is key. You can make the smallest of kitchens spacious and practical if you think carefully about where to position the cupboards, furniture and appliances.
Kitchen Worktops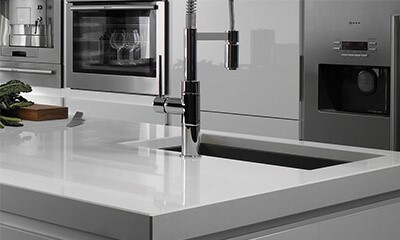 Worktop space is essential as it is needed as a place to prepare and serve food. If you are limited on worktop space you may decide to have an island or breakfast bar added to your bespoke kitchen design. This dining space can double up as extra worktop space when needed. Ensure that any seating can be tucked neatly away underneath without encroaching into the room to maximize floor space. Try and keep your worktops clutter free. Items that you only use a few times a month such as bread makers and mixers should ideally be stored in cupboards and brought out only when needed. This will also help to make the kitchen easier to clean.
Cupboard space
When it comes to cupboards, sometimes less is more. Although you may be tempted to cram as many cupboards into your small kitchen as possible, this will only make it look smaller. Instead try and keep cupboards neatly in a row and leave space between the top of the cupboard and the ceiling as this will create the illusion of extra space. Every once in a while, have a good sort through your cupboards and only keep what you need, this will ensure that you always have adequate storage space.
Colours for your kitchen
The colours you choose will require some consideration when trying to create a spacious room. Dark colours can make the room look smaller, so when short on space, opt for light wood or gloss white. Try to get as much natural light into the room as possible, either by patio doors, windows or skylights.
Integrated kitchen appliances
Your appliances should be integrated into your fitted kitchen design from the start and not just be an afterthought. You may decide to hide the appliances behind cupboard doors which when closed, will improve the flow of the room.
At Avanti, we can help create your dream kitchen in spaces of all spaces and sizes. We offer a no obligation home design visit and have finance packages (see terms and conditions) available to allow you to spread the cost of your new fitted kitchen.