A bathroom is a place that should be relaxing, tranquil and clean. Often, we neglect to update our bathrooms in favour of other rooms in the house, but it is quite easy to transform any bathroom in to one that is beautiful yet extremely practical.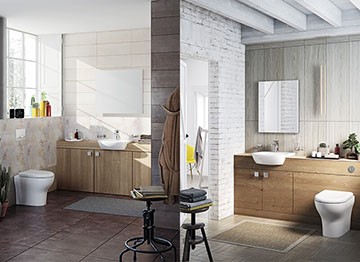 You first need to decide whether you want a traditional styled bathroom or a more modern one. This decision is usually based on the rest of the décor in the home. Traditional fitted bathrooms may be designed with solid chucky wood skirtings and patterned tiled floors with an elegant bathroom suite, whereas an ultra-modern bathroom design is likely to look more simplistic with clean and crisp lines and boosting the latest in power shower technology.
Traditional or Modern Fitted Bathrooms
Regardless of whether you opt for a traditional or contemporary bathroom, you need to think carefully about the colours you are going to use. Coloured bathroom suites can look nice in certain settings but it does then limit your choice if you later decide to redecorate. Often a sink or bath can be transformed by simply changing the taps as chrome is seen as more modern than the traditional brass taps. If your stuck on deciding what colours go well together, refer to the trusted colour wheel. This will show you what colours complement each other. You may decide that you want to stick to white or white and black and add a splash of colour to your bathroom through accessories. This will allow you to change the look of the room quickly and on a budget later down the line. Most designers use the three-colour system where the lightest colour makes up 70% of the room, the next lightest colour – 20% and the boldest colour only 10%. This means the room will look stylised without being too overbearing. You may decide to add a touch of your personality into the room by having quirky wall tiles behind the sink area or adding a splash of colour into the flooring.
We at Avanti understand that these decisions can feel a little overwhelming which is why we are happy to talk you through several options that are available for your bathroom design. We have a wealth of experience in designing and installing modern and traditional bathrooms and are confident you will not be disappointed with the end result.
Why not contact us today to book a free home visit or pop down to one of our showrooms to see some examples we have on display?