Fitted wardrobes are the perfect addition to any bedroom. They can be installed in rooms of all shapes and sizes to provide much needed additional storage space.
We at Avanti have a wide range of bespoke built-in wardrobes to suit all tastes and budgets. Our expert design team will visit your home to take some initial measurements and create a design that will maximize the storage capacity in your bedroom.
Bespoke Built-in Wardrobes for Rooms of all Shapes and Sizes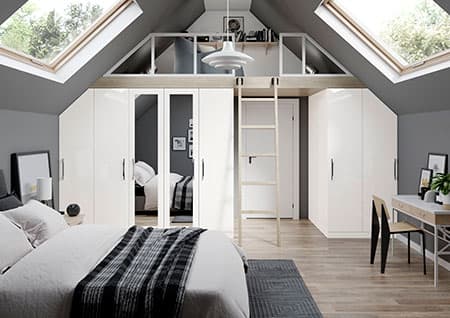 Whether you are looking sliding doors or prefer hinged doors, we have several ranges to suit from the ultra-modern to the more traditional. It may be that you have slopped ceilings in your room and struggle to get prebuilt furniture to fit. Our made to measure wardrobes will be designed to fit the exact space available and can easily be built around chimney breasts or incorporate sloped ceilings to ensure no room is wasted. They are not only extremely practical but can also give the appearance of space even in the smallest of rooms.
Configure your Wardrobe
The inside of the bespoke wardrobe can be configured to include the exact amount of hanging and shelving space that you need. Quirky shoe storage and clever lighting can also be included in the design along with your choice of handles, colours and finishes to truly make it your own.
Why choose Avanti for your built-in wardrobes in Birmingham?
So why choose Avanti for your built-in wardrobes in Birmingham and the West Midlands? With over 40 years' experience in the industry, we are confident that we can provide you with a first-class level of service and the ultimate storage solutions for your bedroom. We understand everyone has different tastes and requirements and can tailor our packages to suit. We can also offer finance packages to allow you to spread the cost. We believe that quality is of the upmost importance when it comes to built-in bedroom furniture. All our furniture is made locally in our West Midlands factory, which ensures that it is built to an extremely high standard and that care and attention is taken over every panel we make and install. We value each and every project we undertake, and our right-first-time policy guarantees your complete satisfaction.