At Avanti, we offer a wide range of bedroom furniture to suit all tastes and budgets. We understand that storage space is of the utmost importance in a bedroom and sometimes conventional furniture simply does not offer the storage you need. If your bedroom is small or an awkward shape then you need to ensure that space is utilised in the most effective way.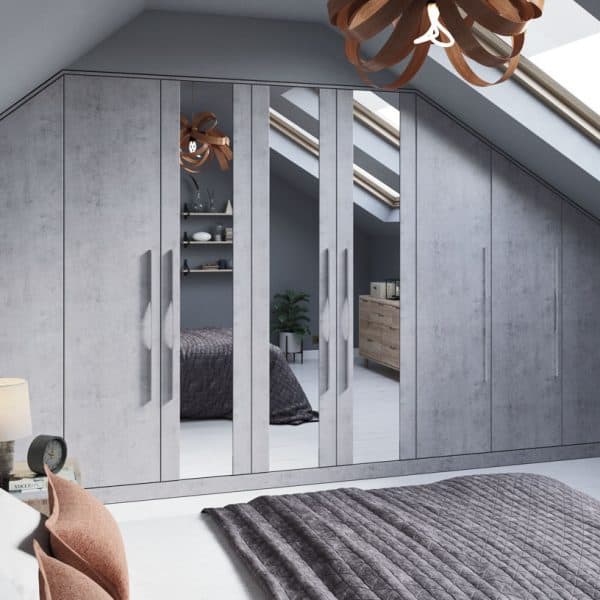 Built-in bedroom furniture offers a convenient way to store your belongings and gives your bedroom an overall appearance of sophistication. All of our furniture is made to measure and built to an extremely high quality in our local factory.
With our free home design visit service, we are able to show you a number of ways in which we can transform your room. Our expert designers will take some initial measurements and create a 3D illustration of the bedroom design. We will discuss a number of different ranges that we have that may suit your style. You are welcome to pop into your nearest Avanti showroom to see a selection of the furniture we can offer. Many of our ranges can be personalised with your choice of colours and handles to allow you to put your own stamp on the design.
Bespoke Built-in Wardrobes
Our bespoke built in wardrobes are perfect for those looking to maximize space in a bedroom. You can choose from a selection of finishes to suit your tastes, that will complement the rest of your furniture. There are several advantages of having a bespoke built-in wardrobe included in your fitted bedroom design.
No rooms are exactly the same size or shape, which is why you may find it hard to find a wardrobe that fits how you want it to in your room. At Avanti we create bespoke fitted furniture each and every time ensuring the perfect fit. It may be that you have low ceilings or that you have a partial slope or possible a chimney breast that the wardrobe needs to be built around. With a fitted wardrobe this is no longer an issue it is incorporated in to the design specification from the start. As well as being able to choose your door type, finish and handles to make it truly unique, you can also choose to configure the inside layout. It may be that you prefer to hang all of your clothing up and require little shelving. With a bespoke fitted wardrobe anything is possible. Speak to us today about our fitted wardrobe range and find out more about our bespoke designs.
We know that financing a new bedroom can be hard at times which is why we offer flexible finance (see Terms and Conditions) that can be arranged from the comfort of your home.
If you would like to arrange a free home design visit then please contact us on 0800 44 66 55 or click here to complete the online form.